In Sweden we love potatoes, specially during summer when we eat our fresh potatoes boiled in dill. But once in a while you want something more crispy on your plate to accomplish your BBQ meal. These crispy salt rice vinegar potatoes are a winner on the plate and can accompany any meals with meat, fish, chicken or eggs. The rice vinegar gives the potatoes a pleasant sweet taste compared to using regular white vinegar, as most other recipes out there do. I used fresh thyme on my potatoes but you can use chives, basil or any fresh herb of your liking. I usually add some onions when making them. Serve these potatoes on their own or together with any meat or fish and my Super tasty And Fresh Cabbage and Pineapple salad. For brunch I serve the potatoes with fried eggs and spicy chicken wings or with my Creamy Healthy BBQ Chicken Salad made under 10 minutes.
Sharing is caring, let other people enjoy our recipes!
[mashshare]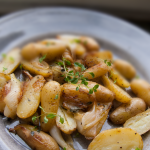 Crispy Salt-and Rice Vinegar Potatoes
2014-05-20 18:22:29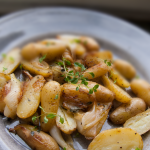 Serves 4
Ingredients
2 lb (0,9 kg) La Ratte / Asparges potatoes halved with skin
1/2 cup ( approx 1 dl) rice vinegar plus 2 Tbsp
1 Tbsp salt, plus more
2 1/2 Tbsp unsalted butter
Freshly ground pepper
5 sprigs fresh thyme
6 scallions halved
Instructions
In a large pot, add the potatoes, cover with water and rice vinegar, season with salt.
Bring to a boil over medium heat, and then reduce the heat and simmer until the potatoes are fork tender, about 7 minutes.
Immediately drain and pat dry the potatoes.
Heat butter in a large skillet over medium high heat.
Add potatoes and season with salt and pepper.
Add some rice vinegar cook and toss until golden brown and crispy about 8 minutes.
Add fresh thyme, taste and adjust seasoning, if needed. Serve and enjoy!
Notes
I used the La Ratte/Asparges potatoes. It´s a small finger shaped potato with a unique nutty flavor and smooth, buttery texture. You can of course use other types of potatoes. But make sure they have a thin nice skin and have a firm consistence. If you can´t find the La Ratte I suggest you go for Yukon Gold potatoes. They require a little longer cooking. You can reduce the cooking time by cutting them in half. You need to be careful so they don´t overcook and fall apart.
Easy Tasty Recipe http://www.easytastyrecipe.com/
[mashshare]