This Delicious Creamy BBQ Chicken Salad is one of the easiest, tastiest salads I know. It fills you up just right and can be ready to eat in just 10 minutes. I personally love how fresh, quick, and easy it is. It´s the epitome of healthy, summer eating making a perfect lunch or a light dinner for the upcoming summer days we have ahead of us. For dinner I usually serve it with oven baked potatoes or some freshly made sourdough bread, yummy you´ll see. This BBQ Chicken Salad combines crunchy romaine lettuce with BBQ chicken, corn, turkey bacon and sliced yellow onion tossed in a mayonnaise, sour cream barbecue dressing.
[mashshare]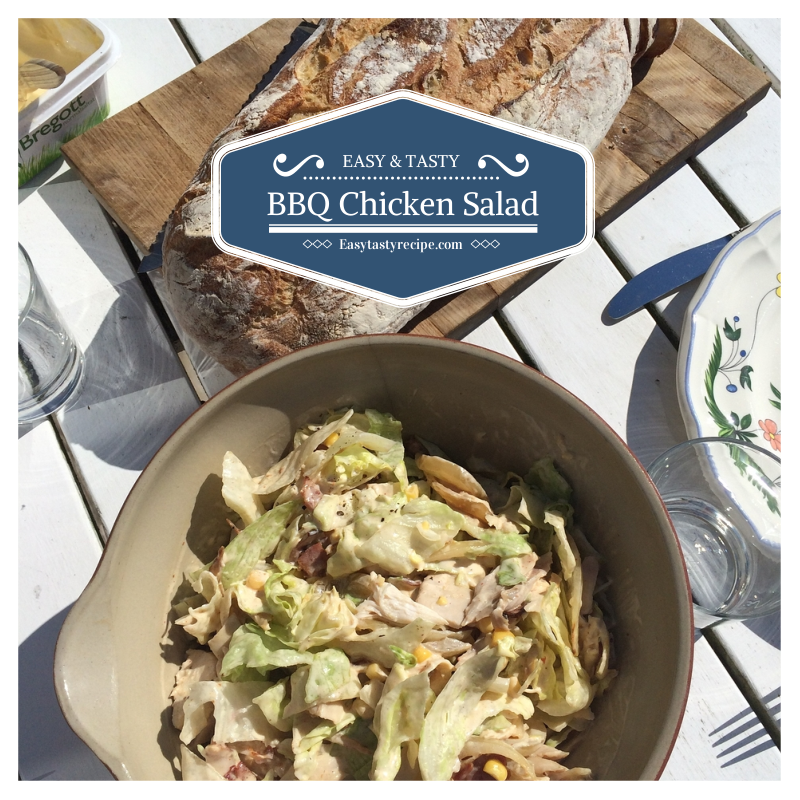 Creamy Healthy BBQ Chicken Salad
2014-05-11 23:29:26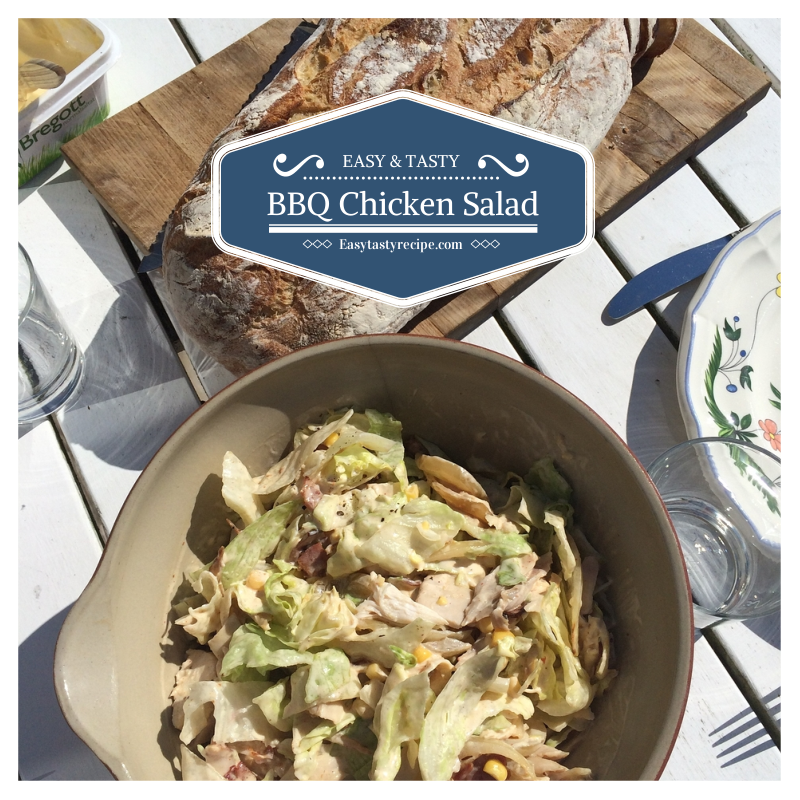 Serves 4
Ingredients
Salad
1 grilled and ready to eat chicken
1/2 head iceberg lettuce, sliced into 1/2 inch strips
1 medium size sliced yellow onion
1 can of corn kernels, drained
3-4 slices low-sodium turkey bacon
Dressing
1 cup of sour cream
3 tbsp of mayonnaise
1 garlic clove minced
1 tbsp sweet and sour sauce
About 1 tsp BBQ spice
Salt and peppar, to taste
Instructions
Combine mayonnaise, sour cream, sweet and sour sauce, garlic and BBQ spice in a bowl, stirring with a whisk until combined.
Add salt and pepper after your own liking. Remember not to over salt the dressing since the bacon is very salty.
Slice the bacon in to small pieces.
Heat 1 tablespoon of oil in a skillet over medium-high heat.
Carefully add bacon and cook until crisp and golden.
Put the bacon to the side and cook the onion in 1-2 tbsp oil over medium-high heat, stirring often.
Remove chicken meat from bone and cut in to smaller pieces.
Chop the lettuce and mix all ingredients in to a large bowl.
Add the dressing and toss well. Ready to eat!
Notes
Serve with some freshly baked sourdough bread or oven baked potatoes. Enjoy!
Let me know what you think about this salad, leave a comment. And don´t hesitate to share with us your favorite BBQ Chicken Salad.
Easy Tasty Recipe http://www.easytastyrecipe.com/
[mashshare]