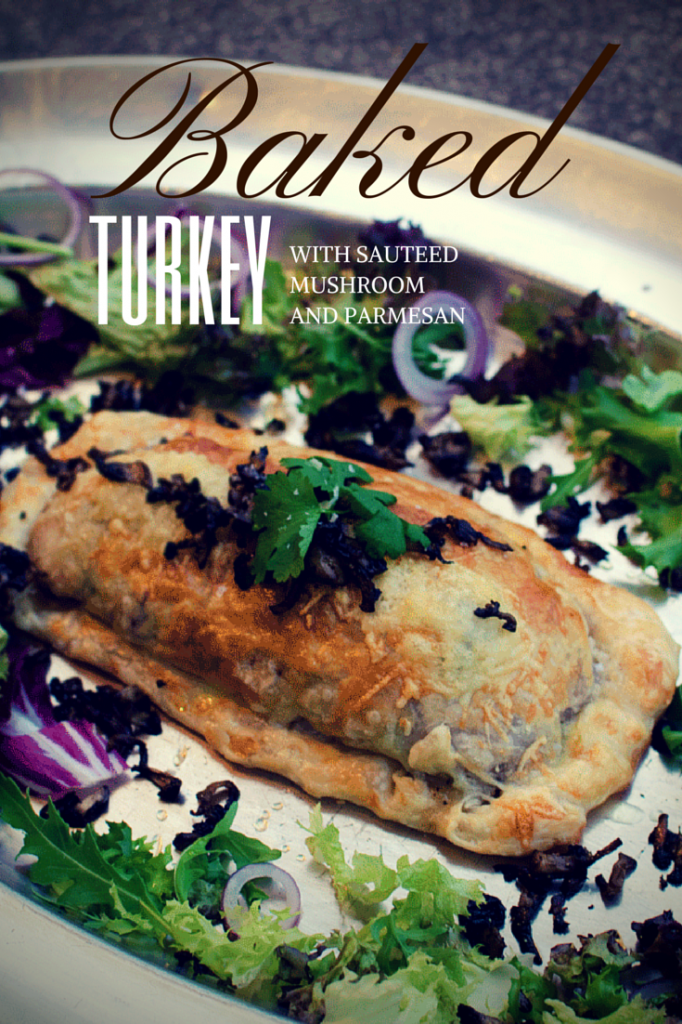 Baked Turkey with Sautéed Mushrooms and Parmesan
2014-11-26 19:21:32
Serves 4
Ingredients
4 Puff Pastry Sheets
2 Turkey Fillets ( 1 1/2 Ibs, 700 g )
2 +1 tbsp Butter
1 Portobello Mushroom
1 1/4 cup (300 ml, 3 dl) Parmesan Cheese
1 Egg
Salt and Pepper
Instructions
Preheat oven to 430°F (220 Celsius).
In a large nonstick skillet, heat 2 tbsp of butter.
Fry the turkey over moderately high heat, turning once, until crisp and golden brown color.
Season with salt and pepper.
Transfer to an ovenproof platter and place in the center of the oven.
Cook until meat is white on the inside.
In the mean while chop the mushroom in small pieces and cook with 1 tbsp butter in a skillet until crispy. Season with salt and pepper.
Grate the parmesan cheese.
Press the puff pastry with a rolling pin to flatten, then roll back and forth several times with rolling.
On a baking sheet place one of the puff pastry sheet.
Place one turkey fillet in the center of the pastry sheet.
Place grated cheese on top of the turkey.
Place an other pastry sheet on top of the turkey and cheese.
Fold pastry sheet around turkey using fingers to seal pastry seam.
Repeat steps with the other turkey and the remaining pastry sheet.
In a glass whisk the egg with a fork until the yolk egg white is well blended.
With a brush, brush the egg over the pastry and place in oven for a proximately 12 minutes.
Notes
Serve with our delicious Mashed Sweet Potato with Ginger and Orange
Easy Tasty Recipe http://www.easytastyrecipe.com/
Serve with our Mashed Sweet Potato with Ginger and Orange