Both my husband and I love apples. With fall knocking on our door and apple season having arrived I challenge myself to make as much food as possible using apples. Some time ago I was fortunate to stumble upon an amazing Earl Grey flavored apple cake and ever since I have been obsessed with finding the perfect apple and Earl Grey recipe. Although I could not find the recipe for that particular dessert I have been working on re-creating it at home. This recipe is hence my interpretation of that lovely cake I once at and I must say it´s very good. I served it to my family last night and although they are my fiercest critics they all loved it… But I must warn you they are sweet and on the heavy side so I suggesting serving a light dinner such as my Grapefruit Chicken Salad before enjoying these sweets.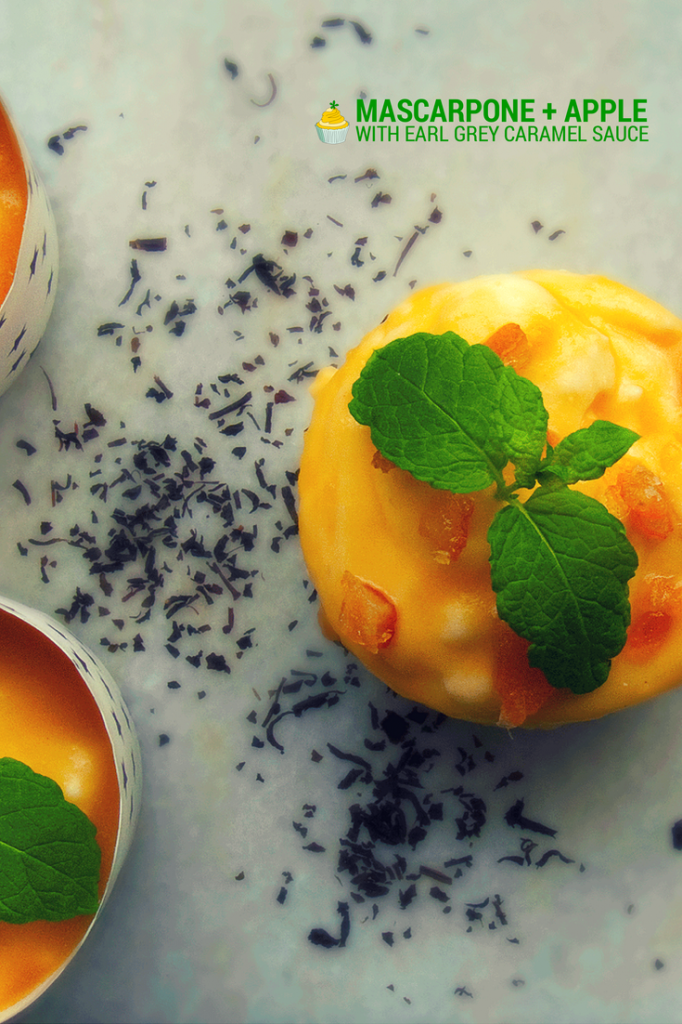 Apple Mascarpone Cupcakes with Earl Grey Caramel Sauce
2014-08-21 16:48:11
Ingredients
7 Cupcake Forms
Crust
3,5 tbsp Unsalted Butter
1 Cup of Graham Crackers Crumbles (3,5 oz, 100 g)
Cake
1/2 Cup (150 ml 1,5 dl) Unsweetened Apple Puree
Zest From One Lemon
2 Cups (9 oz, 250 g) Mascarpone
1,7 Cup (200 ml, 2 dl) of Sour cream
3,5 Tbsp White Powdered Sugar
3 Tsp of Vanilla extract
Topping
2-3 Earl Grey Bags
6 Tbsp Unsalted Butter
1/2 Cup Granulated White Sugar
5 Tbsp Heavy Wipping Cream
Instructions
For The crust
Melt the butter
Process the graham crackers with a hand blender until cookies resemble coarse crumbs.
Mix the melted butter together with the cookie crumbs until it starts to stick together.
Press into the bottom of each cup cake forms. Set in the fridge until ready to use.
For The Cake
Beat the mascarpone, sour cream, sugar and vanilla extract in large bowl until smooth.
Wash and grate the lemon.
Stir in apple puree and lemon zest until the apples and zest are incorporated.
Pour over crust and chill until filling is firm.
For The Earl Grey Caramel Sauce
Heat the cream in a cup and add the teabags.
Let the teabags brew in the milk for two and a half to three minutes. This allows the flavour to fully develop.
In the meantime melt the sugar over medium heat in a sauce pan. Whisk the sugar as it melts. Stop as soon as you see bubbles. The sugar should by now be dark and runny.
Add the butter and stir it in. Take caution because it´s very hot. No kids around!
Squeeze out the last cream from the teabags with a spoon before tossing the bags away.
Slowly add the earl grey cream to the sauce and whisk until it is nice and smooth, put a side to cool a few minutes in the fridge.
Pour the earl grey caramel sauce over the cupcakes and let cool in the fridge before serving approximately 1-2 hours.
Enjoy!
Easy Tasty Recipe http://www.easytastyrecipe.com/