This Carrot Soup is delicious and super easy to make, not to mention healthy and cheap. It's a rich source of vitamin A and is non-fattening. What is there not to love? The ginger, garlic and orange juice makes this soup one of the best carrot soups out there.
Homemade carrot soup keeps for a maximum of three days in the fridge and you can freeze it up to four months.Serve it together with some freshly made bread or baguette and cream cheese, butter or olive oil.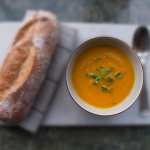 Super Easy And Tasty Carrot Soup With A Taste Of Ginger
2014-05-19 20:21:14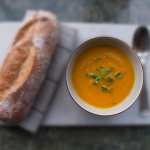 Serves 4
Ingredients
2 inches (5 cm) chopped and peeled ginger
3 garlic cloves chopped
Orange juice squeezed from 2 oranges
4 large carrots peeled and grated
2 vegetable bouillon or 2,5 cups (6 dl) vegetable broth
2,5 cups (6 dl) water (only if you decide to use bouillon)
Handful of fresh thyme
Pinch of sugar
Oil any of your liking, I used olive oil
Instructions
Peel and grate the carrots
Add oil in a pan over medium-high heat.
Add the grated carrots, and sweat carrots in pan 3-4 minutes
At the same time peel and chop the garlic and ginger
In a pot add water, bouillon and the carrots. Bring to boil.
Stir-fry the ginger and garlic for 2-3 minutes in a pan with 3 tbsp oil until crispy and golden.
Add the ginger and garlic in the pot with water and carrots.
Reduce heat, cover partially and simmer for 5 minutes
Use a hand blender to puree the soup, be careful the soup is warm and easily spatters.
Mix in orange juice.
Add some fresh thyme and a pinch of sugar.
Season with salt and pepper.
Notes
Bouillon is a very important ingredients, so make sure to use som you already like. I used Knorr bouillon for this soup. If you use unsalted bouillon with no added sugar you might want to add some extra salt and sugar in the soup. You can always use honey if you´re not a big fan of sugar. The more ripe the oranges are the less sugar you need, perhaps no sugar is needed at all.
Easy Tasty Recipe http://www.easytastyrecipe.com/
Sharing is caring, let other people enjoy our recipes!
[mashshare]